This is about an ordinary boy in his early teens, who after his school and in holidays used to mingle with nature in and around his locality Sorbhog, a place known as the hub of quality dairy products in the state of Assam. This simple and vibrant lad one day wanted to join a martial art training centre to become a legend like Bruce Lee. However, like his flying age, changes were evident in his dreams. With time, his aspirations roamed around becoming sport stars like Kapil Dev, Pale or even becoming a revolutionary like Che Guevara, a name commonly discussed in his place with communist ideology. The most significant character of his dreams was that whatever be the aim, he always made the sky, his limit. May be that was the reason, why he wanted to curve out a niche for himself. Moreover, it was quite unusual for a mediocre student like him born and brought up in a very simple, lower middle class family to have such Himalayan dreams. One day, the lad arbitrarily landed up in a fine art school to learn the basics. But the expenses were quite unaffordable for his father. So, the boy started selling veggies and fruits from his homestead garden in the market to meet the requirements. That opened a new door of experience for the small boy. Gradually, he has started developing interest in knowing the commoners, learning their lives, knowing their feelings. His interactions with the common people had rejuvenated a hibernating inclination in the boy towards using art as an expression of the voice of the people. This boy, christened as Nituparna after his birth on February 1982, by his parents Khagen Ch. Rajbongshi and Binapani Rajbongshi has finally resorted to a quite different form of "punching" to attack the evils of the society through his cartoons
It was a regional vernacular magazine named "ABIKAL" that published his first cartoon in the year 1997 when he was only 15 years old. It was the beginning of the journey of a young lad who considers cartoons as the language of the common people. Since then, this ever illuminating journey continued in various vernacular regional magazines and newspapers, national and international web magazines and portals, which include – CHICHINGFANK, PADAKKHEP, DUNDUBHI, ASOMIYA JANAMAT, DAINIK JANAMBHUMI, ASOMBANI, DAINIK ASOM, AJIR ASOM, SANGBAD LAHARI, ASOMIYA KHABOR, ANYA DESH(Bangla Magazine) GNRC SWASTHYA, SENTINEL (Hindi), DOORDARSHAN (NE), SADIN, GANASHAKTI, RAIJMEL, www.voiceofassam.com, www.indigenousherald.com, www.epochtimes.com www.seoltimes.com, News Blaze, www.countercurrents.com, www.righthealth.com etc.
The experience of cartooning has taken a new turn with his first solo cartoon exhibition held in State Art Gallery, Guwahati, Assam, in 2007, which was inaugurated by eminent writer Mamoni Roysom Goswami. As a socially dedicated cartoonist Nituparna also started the first ever mobile cartoon exhibition in Assam and north east in 2007-2008 featuring environmental issues under the aegis of AARANYAK and other groups. Exhibitions were also held in Bongaigaon, Pagladiya Kala Bithika, (Nalbari); Bokakhat, (Golaghat), Cotton College( Guwahati), Tihu College (Nalbari) etc. His latest cartoon exhibition titled "NEOTHANI" held in State Art Gallery, Rabindra Bhawan, Guwahati, Assam in February 2014 showcased approximately 50 select cartoons of the artist based on contemporary issues.Nituparna's first cartoon collection entitled AARCHI (The Mirror) was published in 2010 by JYOTI PRAKASHAN, Guwahati, Assam. In another unique endeavor, Nituparna also published a recent collection of poetry by six eminent poets of the state which were based on his cartoons. This latest collection named "Rekhare Kathare", published by REKHA PRAKASHAN; Guwahati was released in December, 2012.
Also an active journalist, Nituparna was selected for GNRC Media Fellowship for the year 2012. His chosen subject was Health Care of the poor in the North East. He was also awarded with Jugasankha Journalist Award (Political Category) in 2013 by Jugashankha Newspaper Group.
———- Interviews ———-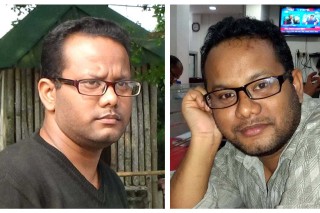 একো একোটা বিষয়ৰ গুৰুত্বৰ প্ৰতি বিভিন্ন শ্ৰেণীৰ মানুহক সচেতন কৰি…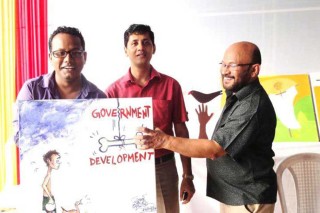 শৈশৱত ক্রিকেটৰ বল তুলি ল'লেই নিজকে কপিলদেৱ, মার্চিয়েল আটৰ স্কুলত…